Water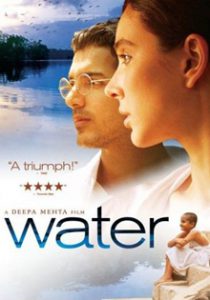 Call Number: MSCFFDVDW3, Digital Video
Alternate Title: Water
Year: 2005
Director: Deepa Mehta
Duration: 117 mins
Language(s): Hindi
Subtitle Language(s): English
In 1938, Chuyia an 8 year old child bride whose husband dies before their union is consummated is relegated to life in an ashram in Varanasi for  "unwanted" widows. Under traditional Hindu law, she will be a widow for the rest of her life. Her hair is cut off and she wears a white garment that marks her.  The lives of the widows are ruled over by a venal old woman, Madhumati.  She pimps the young widows out to wealthy Brahmin gentlemen, whose attentions are considered by society to be a blessing.
Then Chuyia makes a friend. This is the beautiful Kalyani (Lisa Ray), who alone among the widows has been allowed to wear her hair long, but for a sad reason. Madhumati has an arrangement with the pimp Gulabi to supply Kalyani to wealthy clients, as a source of income for the ashram. Kalyani has a puppy, which they hide and love together. Chuyia meets Narayan, a tall, handsome, foreign-educated follower of Gandhi, and when she brings him together with Kalyani, they fall in love.  Kalyani runs away to marry the young lawyer, until she discovers that his father has been her "client/benefactor." She drowns herself in the Ganges, and the young man disowns his father. Chuyia is abused, then rescued and helped to escape by Shakuntala, another of the widows.
The unspoken subtext of "Water" is that an ancient religious law has been put to the service of family economy, greed and a general feeling that women can be thrown away. The widows in this film are treated as if they have no useful lives apart from their husbands. They are given life sentences.
A Capstone Video