World Quest Series: Italy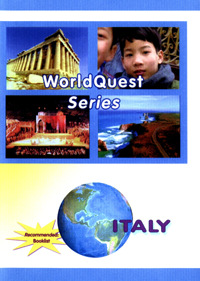 Call Number: ITAINSDVDW1, Digital Video
Alternate Title: World Quest Series: Italy
Year: 1995
Director: Film Ideas Inc.
Duration: 22 mins
Language(s): Italian
Subtitle Language(s): English
From its humble beginnings in 753 BCE, Italy, formerly known as Rome, was once a tiny hilltop village overlooking the Tiber River before becoming the most powerful empire the world has ever known. Famous for its artists, scientists, musicians, inventors and explorers, Italy greatly influenced the history of the world. At its height the Roman Empire stretched from the British Isles to Persia (Iran). It is in combination with their treasured past and their present fortitude that Italian culture will continue to contribute to a world that has rapidly advanced into the 21st Century.