You Laugh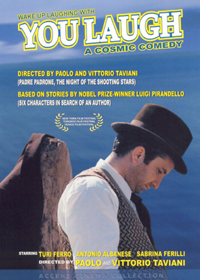 Call Number: ITAFFDVDY1, Digital Video
Alternate Title: Tu ridi
Year: 1998
Director: Paolo and Vittorio Taviani
Duration: 99 mins
Language(s): Italian
Subtitle Language(s): English
Based on the stories of Luigi Pirandello, You Laugh tells the story of Felice, a man who faces life, death, separation, unification, hope and fear in his quest to recover his dreams.
Felice can't remember his dreams, but they must be funny because his big belly laughs keep his wife awake.  As he tries to recover his dreams – both his literal dreams and his personal hopes – Felice faces both life and death, separation and reunification, and hope and fear.
The film is a cosmic comedy encompassing two tales of kidnapping: one of a mafia turncoat's son, and one of an intellectual kidnapped a hundred years earlier by peasant rebels.  By turns humorous, tender, loving and frightening, it is both a testament to the power of laughter and an exploration of it's many causes.