Ms. Crista Johnson Named 2016 Study Abroad Director of the Year
On June 2, 2016 UDaily published a story on Crista Johnson who was named 2016 Study Abroad Director of the Year by IGS. Congratulations Crista!
The article can be found below:
TEACHING 'TICO' CULTURE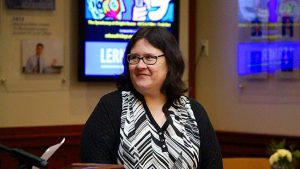 Crista Johnson named 2016 Study Abroad Faculty Director of the Year
Crista Johnson, an instructor of Spanish at the University of Delaware, has led more than a dozen study abroad programs to Costa Rica since the 1990s.
It is Johnson's familiarity with the people – Ticos – and culture of Costa Rica which her students say makes the program truly unique. This year, a record 15 of Johnson's study abroad participants (75 percent of the group) anonymously nominated her for the 2016 Study Abroad Faculty Director of the Year Award.
Johnson was recently recognized with her award at the Institute for Global Studies "Best of UD Global" celebration.
The selection committee, convened by Lisa Chieffo, associate director for study abroad, later unanimously chose her for the award. "After so many years of dedicated and successful directorship of study abroad programs, it is particularly gratifying to see Crista Johnson receive this most deserved honor," she said.
Among many other qualities, students raved that the program had a distinctly authentic feel. Each UD student lived with a host family in Heredia, a college town outside of the capital city of San Jose and the location of the program's host institution, the Universidad Latina. "Crista encouraged all of us to form relationships with our host families and emphasized the importance of communication, which is very easily lost in a new environment," one student said.
In addition to the host family experience, participants were challenged by Johnson to understand Tico culture by exploring on their own. "She helped by encouraging us to take the buses and see where they went, to take the train to San Jose, to see the different plazas and parks," another student said, "and by telling us to ask our host families where they were going so that we could experience it as well."
"It was clear that Crista had been fostering relationships over the years with many of the families we stayed with," another participant said. "Her connections there allowed us to access things otherwise impossible."
As a part of the program's Spanish 107, 206 and 207 courses, Johnson invited experts from the community to give guest presentations on "aspects of the culture that," according to a student, "only a native could explain."
"In class, she often asked us questions that seemed to try to get us to think differently, to think more like a Tico or Tica than a U.S. citizen," said a participant. "By the end, I definitely think that I was able to think more like a Tico, both linguistically and idealistically."
Outside of the classroom, Johnson traversed much of the country with her students through planned excursions to historic sites, landmarks, museums, beaches, a volcano and the rainforest, to name a few. Highlights included dancing lessons and an interactive visit to the Joaquín Chaverri Oxcart Factory, the oldest factory of its kind in Costa Rica, where students had the opportunity to paint their own oxcart wheels.
Each of these hands-on site visits was incorporated into classroom discussion and the larger curriculum. "On the bus rides to excursions, she would quiz us on the things we learned in class that applied to that particular excursion or city," a student said.
While Johnson observes each year that "every student takes something different away from the program," one way she sees students overwhelmingly grow is in their enthusiasm for using the Spanish language.
"Many of them go and don't even want to string one or two words together. They are very scared. They haven't built up the confidence they need," she said. "When they come back, even if they are making mistakes, they don't care. They just blurt it out, have fun with it, and use it. They have built up a confidence about it that will allow them to progress in the language."
Her students, too, noted a real change in their language abilities, saying that they learned from the best. "She is the most excellent non-native speaker I've ever known… She talked to every person she met as if she'd known them forever," was just one of many nominations citing her contagious passion for speaking the language.
"I'm very honored by my students and the fact that they took the time to write these nominations, which were totally voluntary. I am speechless by all of this," said Johnson of her award.
With its many planned activities and structured itinerary, the Costa Rica program offered by the Department of Languages, Literatures and Cultures is designed with freshmen and other students who have never traveled abroad in mind. "It really gives them a chance to build self-confidence, to learn about themselves, to mature even," said Johnson.
Johnson began her own study abroad journey in the city of Alajuela, Costa Rica, as a student. "It is the country that just draws me back consistently," she said.
Students interested in joining Johnson on the Winter Session 2017 program are invited to explore the program offerings in-depth on the Institute for Global Studies website and to apply by Sept 20. Those with questions about the program are also welcome to contact Crista Johnson at cristaj@udel.edu.
About the Institute for Global Studies
The Institute for Global Studies was created in 2009 to enhance the international dimensions of teaching, research and outreach at the University of Delaware. IGS provides leadership and support for programs and experiences that contribute to the education of informed, skilled, open-minded citizens of the world.
Best known for coordinating the University's study abroad program, IGS also awards scholarships and grants to faculty and students for a number of global opportunities, and administers internationally-recognized U.S. Department of State-sponsored programs such as the U.S. Fulbright Initiative, Middle East Partnership Initiative (MEPI) Student Leaders Institute, Mandela Washington Fellowship Program for Young African Leaders, and most recently the Study of the U.S. Institutes for Student Leaders on Women's Leadership (SUSI-WL) program.
IGS sponsors such signature events as Global Month each fall and country-specific celebrations each spring, such as Arctic Month 2016.
IGS collaborates with other global partners on campus, including the Office for International Students and Scholars, the Confucius Institute and the Center for Global and Area Studies. In addition, IGS partners with Enrollment Management to coordinate the UD World Scholars Program.
Article and photo by Nikki Laws
This entry was posted in Faculty/Staff Notes, Grants/Awards, Polyglot and tagged Fall 2016 Polyglot, Spanish.