Dominique Roberts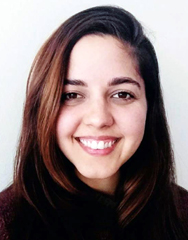 77 E. Main Street
Room 201
Newark, DE 19716
(302) 831-6679
robertsd@udel.edu
Courses Taught
LRC Hours

Day
Time
M
12:30 P.M. - 1:30 P.M.

Biography:
Dominique Roberts is a graduate student pursuing an MA in Languages, Literatures, Cultures and Pedagogy at the University of Delaware.  She has worked as an ESL teacher at the elementary and high school levels for almost a decade, and since 2014 she has taught Language and Pedagogy at a Teacher Training College in Buenos Aires.  She is a former Fulbright Foreign Language Teaching Assistant and has worked as a Spanish Teaching Associate at Williams College in Massachusetts.  She has also served as a Spanish interpreter with the United Nations.  Dominique  comes from Buenos Aires, Argentina, and beyond her academic pursuits, her passion is music.
Degrees:
BA in Teaching English from the Instituto Superior Colegio Modelo Lomas in Buenos Aires, Argentina in 2011
This entry was posted in Graduate Students.