Fernando Ruiz García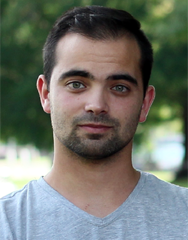 77 E. Main Street
Room 201
Newark, DE 19716
(302) 831-6679
fruiz@udel.edu
Courses Taught
LRC Hours

Day
Time
F
11:15 A.M. - 12:15 P.M.

Biography:
Fernando Ruiz García is a native of Cantabria (Spain). He graduated from the University of Cantabria in 2012 with a BA in Teaching Foreign Languages (English) and in 2013 with a BA in Elementary Education. During the academic year of 2011-2012, he participated in the Erasmus program spending a year studying at the University of Rennes 2 (Rennes, France) which offered him the opportunity to develop internship programs at several French schools. After graduating, he moved to Aberystwyth (Wales) where he worked as a spanish teaching asisstant at the "Ysgol Penglais High School". He spent the next academic year (2014-2015) in the city of Bristol (United Kingdom) working as an Early Years Teacher at the "Rosemary Nursery School", returning to Spain in 2015 to work as a primary school teacher and tutor until June of 2017. Starting in 2013, he concurrently acquired a distance learning BA in English Studies at the UNED (Spanish National University of Distance Education), integrating its concepts into his teaching . He graduated in June of 2017.
Fernando is currenty working as a Teaching Asistant at the University of Delaware while studying for a Masters Degree in Languages, Literatures, Cultures and Pedagogy.
Degrees:
BA in Teaching Foreign Languages (English)
BA in Elementary Education
BA in English Studies (Language, Literature and Culture)
This entry was posted in Graduate Students.