Kayla Dickens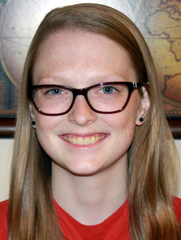 30 E. Main Street
007 Jastak-Burgess Hall
Newark, DE 19716
302-831-0284
kdickens@udel.edu
Courses Taught
LRC Hours

Day
Time
W
3:30 P.M. - 4:15 P.M.

Th
1:30 P.M. - 2:45 P.M.

Biography:
Kayla is a graduate student in French and Pedagogy from New London, Pennsylvania. She graduated from the University of Delaware in 2016 with a BA in Linguistics and French Education. She spends her summers teaching Linguistics at the Center for Talented Youth and looks forward to a career teaching French in public schools after graduation. When she's not working, she loves traveling, listening to music, and spending time with friends and family.
This entry was posted in Graduate Students.