Mackenzie Campbell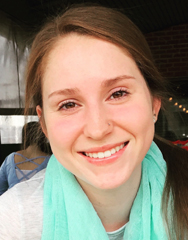 30 E. Main Street
007 Jastak-Burgess Hall
Newark, DE 19716
(302) 831-0284
mackcamp@udel.edu
Courses Taught
LRC Hours

Day
Time
W
11:30 A.M. - 12:30 P.M.

Biography:
Mackenzie Campbell is a graduate student from Framingham, MA pursuing an MA in French Language and Literature. She was born in Montreal, QC, and French has always been an integral part of her family's identity. She graduated in 2017 from the University of Delaware with degrees in Three Languages and International Business. She will be a teaching assistant for the first time during the 2017-18 academic year. She is passionate about linguistics and logic, so she plans to pursue a PhD in Computational Linguistics after her MA and do research in multilingual grammar engineering. She hopes to travel to new places every opportunity she gets, and she hopes to learn more languages in the future.
Degrees:
BA in Three Languages
BS in International Business
This entry was posted in Graduate Students.