Miguel Martínez-Cabeza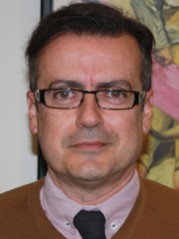 Adjunct Associate Professor of Spanish
University of Delaware
212 Jastak-Burgess Hall
Newark, DE 19716
(302) 831-2758
mcabeza@udel.edu
Courses Taught
LRC Hours

Day
Time
W
9:30 A.M. - 12:30 P.M.

Biography:
Miguel Martínez-Cabeza is a visiting Professor of Spanish, whose area of interest is Literature, film, and pragmatics. He teaches courses in textual linguistics, culture and discourse, and postgraduate courses in film adaptation.
He lives in Spain, where he is Associate Professor at the University of Granada. He has been advisor to four Ph.D. Theses and ten M.A. Theses.
He has published two monographs, one on the language and style in E.M. Forster's novels and another on textual linguistics, The Study of Language Beyond the Sentence (2010), which is now in its third edition. He has also edited and translated fifteen books of essays and short stories including four by Henry James (Horas venecianas, 2008, Cartas desde Venecia, 2011, De Paris a los Pirineos, 2010, Vacaciones en Roma, 2012), two by Virginia Woolf (Leer o no leer y otros escritos, 2013, Atardecer en Sussex, 2014) and two by D. H. Lawrence (Mañanitas en México, 2014, Italia a media luz, 2015) and the short story collections Muerte en el bosque (2014), by Sherwood Anderson, and La madre de George (2016), by Stephen Crane.
Miguel Martínez-Cabeza has published extensively in specialized Journals and Proceedings at Conferences, has been the Chair of the Department of English and is now the academic coordinator of the Degree in English Studies at the Facultad de Filosofía y Letras, Universidad de Granada.
Degrees:
Ph.D., Universidad de Granada
This entry was posted in Uncategorized.