Quentin Bouvier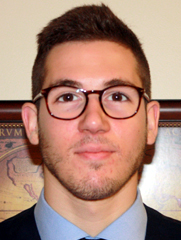 30 E. Main Street
007 Jastak-Burgess Hall
Newark, DE 19716
302-831-0284
quentinb@udel.edu
Courses Taught
LRC Hours

Day
Time
W
12:00 Noon - 3:00 P.M.

Biography:
Quentin Bouvier is a graduate student from Paris, France pursuing an M.A in French literature. He got a B.A degree in 2015 from La Sorbonne Nouvelle, Paris III, with a concentration in Anglophone History and Literature. He has been a French Teaching Assistant from 2015 to 2016 at Hood College, MD. He is passionate about literature, history, politics, and loves sports. He also practices track and field, specializing in the discus. His plans are to pursue a Ph.D after his M.A and to become a French professor in the United States. La vie est belle, souriez !
Degrees:
B.A. in Anglophone Studies - La Sorbonne Nouvelle, Paris III
This entry was posted in Graduate Students.