Student Production of L'Amour Médecin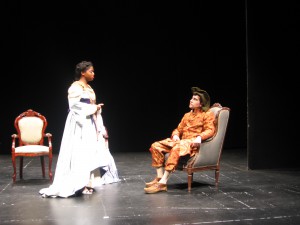 Students in the French Theater Workshop, an advanced course taught by Dr. Deborah Steinberger, presented Molière's comedy-ballet L'Amour médecin at the Hartshorn Theater in May 2014. Cast members Kevin Zhang, Brenda Savelski, Sara Albrecht, and Isabelle Marquez joined French Theater Workshop alumni Anna Ogunnaike and Matthew Werth in performing instrumental and vocal excerpts from Jean-Baptiste Lully's original score. Veronica Szafranski contributed original choreography. Andrew Timmick, Andrew Russell, and Holly Malloy shared the lead role of Sganarelle, and Luis Figueroa and Beth Morris brought down the house as a pair of bumbling, pretentious doctors. The entire cast of twenty-one, dressed in sumptuous period costumes on generous loan from the Theater Department, did a wonderful job bringing Molière's play to life, and were applauded loudly by an audience of UD faculty, students, and friends and family.
This entry was posted in Other, Polyglot, Special Events and tagged Fall 2015 Polyglot, French.