The Orlando Tragedy in Poetry and Art November 8th & 9th
November 8th, Kirkbride 204, @ 5:30PM
Guest speakers: Amauri Gutierrez Coto & Matiko Mamaladze – Poetry reading and painting exhibition reflecting on the Orlando Massacre.
Remembering Orlando is an event sponsored by the Department of Languages, Literatures, and Cultures, the Latin American and Iberian Program, and the Department of Woman and Gender Studies.
Amauri Gutiérrez Coto and Matiko Mamaladze will talk about the artistic response to the Orlando massacre of 2016. The event will be an engaging discussion which will include a presentation of the volume recently edited by Yolanda Arroyo Pizarro, a Puerto Rican writer, and activist. The volume includes poetry by various Hispanic authors dealing with the aftermath of the tragedy in Orlando. This is event is in English.
November 9th, Kirkbride 205, @ 5:00PM
Poetry reading and discussion by Amauri Gutiérrez Coto & Alexander Selimov. This event is in Spanish.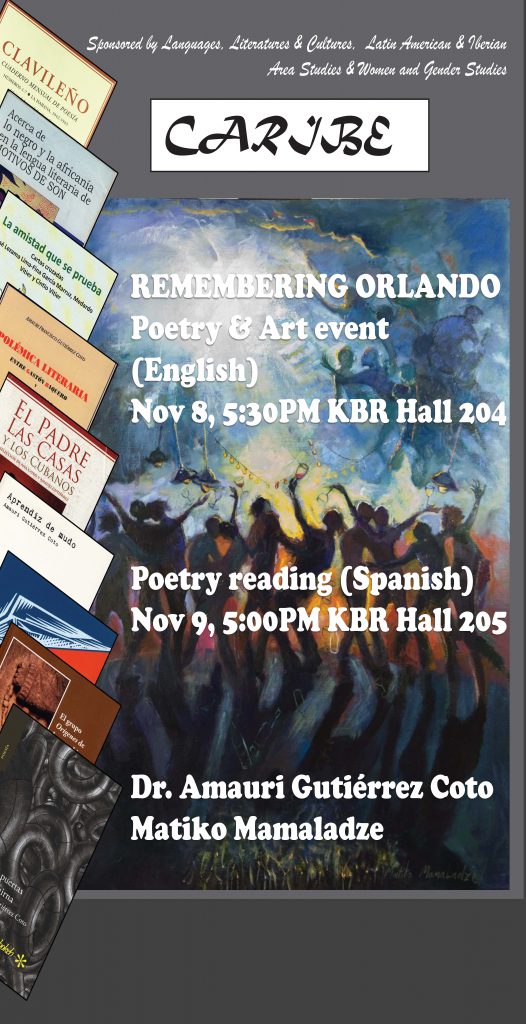 This entry was posted in Future Events, Polyglot, Spotlight.