World Language Educator Open House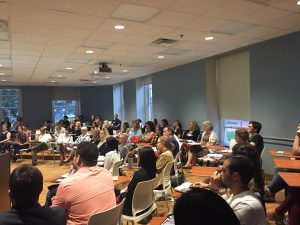 Language educators, members of school administration, curriculum specialists and other teacher leaders attended the World Language Educator Open House on October 5, 2017.  The event was a first step in connecting with language educators in the state to begin addressing some of the challenges facing world language teachers today.
Drs. Persephone Brahm, Cristina Guardiola-Griffiths and Tracy Quan presented information about current graduate and undergraduate programs, along with some details about what students can do during and after their studies.  Dr. Liz Farley Ripple spoke about the Partnership for Public Education and it's role in supporting education in the state along with ways for University faculty to connect with K-12 educators.  Representatives from the Office of Admissions and Student Financial Services also provided information for attendees.The Department of Languages, Literatures and Cultures is looking forward to collaborating with educators and working together to ensure a robust and highly qualified supply of language teachers in the state.
This entry was posted in Career Event, Polyglot, Special Events, Uncategorized and tagged Fall 2018 Polyglot.