Brenda Savelski (BA Three Languages 2015): Exploring Languages through the Connections that Unite Them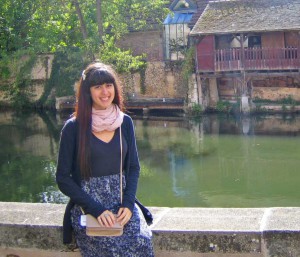 Although I was not sure what to expect when beginning my studies as a Three Languages major, I certainly did not anticipate the way in which my foreign language education would impact my relationship with both the world around me and my own self development. In May of 2015, I graduated with an intimate connection to four different languages and the cultures behind them – French, Russian, Japanese, and Spanish. My experiences in each of these four language sections have been unique due to the cultural differences that define them and my varied relationships with each one.
Having spent the first few years of my life in Argentina, Spanish is my first language. Therefore, I decided to take upper-level Spanish classes to become exposed to literature in my native language for the first time. One day in my first Spanish course, we opened the textbook to an old Spanish "romance." As we began to read it, I slowly realized that I knew all of the words by heart; this poem was one of many songs that my mother had sung to me in my childhood. At that moment, seeing a treasured childhood memory printed in a textbook, I realized the inherent intimacy of language study. The languages and literatures of the world are not an esoteric field of study, but rather the expressions of everyone's humanity. Learning foreign languages makes the people who speak them less "foreign" and emphasizes the interconnectedness we feel as people. I have not only become more aware of what defines my own culture, but learning to appreciate the beauty of other languages and literatures has, in turn, also made me more sensitive to the eloquence and workings of the English language.
Studying French and Russian in addition to Spanish has provided me with a unique opportunity to learn about how different cultures influence one another. In particular, I am fascinated by the varied influences of French culture and literature on Russia and Latin America. Through my studies of the literatures of multiple cultures, I have gained insight into the relationships that define today's global environment and the ability to view history from the perspectives of other nations. This perspective has instilled in me a deep respect for the cultures of the world, and as empowering as it is to be able to express myself in multiple languages, foreign language study is also extremely humbling. My peers and I often joke that, no matter how much we study our target language, a small child from that country could talk circles around us. Even at the advanced levels, it is impossible to learn every phrase or read every great work of literature.
In my Japanese classes in particular, this sentiment fuels a sense of community amongst us as we struggle together to express ourselves in a language wildly different from our own. In the process, we learn how to work with our thoughts on an abstract level. There is no way to translate English word for word and come up with a coherent thought in any language, particularly one as linguistically distant as Japanese. This learning process fosters an intimate relationship with the target language. Even though I began my studies with personal connections to Spanish and French and very little understanding of Russian and Japanese cultures, semester after semester, I have found myself in classrooms full of individuals devoted to the understanding of these languages and cultures, and I am developing unique relationships with all four thanks to these experiences. It is impossible to categorize what I have gained from my foreign languages degree; languages are inextricable from the people who speak them. I will be graduating with a richer understanding of the world and my place in it, and I hope that my learning has only just begun.
This entry was posted in Polyglot, Student Feature and tagged Fall 2015 Polyglot, French, Japanese, Russian, Spanish.