Children's Literature Under Dictatorships Student Exhibition
It was all celebration on April 2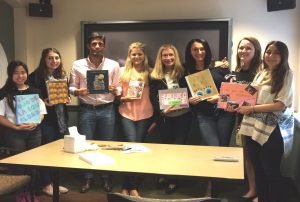 7, 2016 at the Department of Languages, Literatures and Cultures, as the class of "Children's Literature under dictatorship" presented their handmade children's books before faculty and students followed by a reception. The class focused on studying the authors of children's literature in countries like Spain and Latin America. Professor Gladys Ilarregui helped them throughout the semester to write their own stories in the context of different political struggles so that later on students would  be able to create their own handmade books.
Maria Teresa Andruetto, Hans Christian Andersen Award, 2012, winner of the highest international recognition given to an author of children's books, sent a message to all students of Spanish 467/667 from Córdoba, Argentina. The final result were stories about grandfathers in the Spanish civil war, gender repression in Latin America, indigenous repression and censorship. It was a feast of ideas celebrating memory and freedom following difficult periods of recent history.  The books were made of cardboard and fabric, employing origami, collage and the juxtaposition of illustrations to achieve their final artistic forms.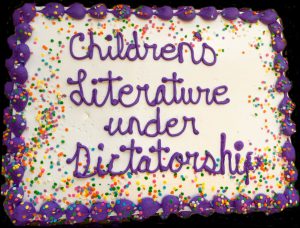 This entry was posted in Other News, Polyglot and tagged Fall 2016 Polyglot, Spanish.