Resource Center Printers

Central to Resource Center printing services are its three laser printers, one of which is designated for language faculty use. The New LRC Student Printer is a Hewlett Packard LaserJet 9050dn used as the default printer for the student workstations located in each of the three octoganal clusters that populate most of the Resource Center space. A second printer called the Old LRC Student Printer is a Hewlett Packard LaserJet 8150dn which can be selected for use when the 9050dn is processing a long print job. The 9050dn and the 8150dn are capable of both single-sided and double-sided printing and are prominently located along the left side of the Resource Center for convenient access. Color printing is available by special request to both students and faculty and is made possible by a Dell 5130cdn Laser Printer capable of printing both single-sided and double-sided documents.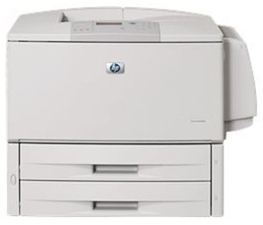 LaserJet 9050dn
Equally impressive are the Resource Center's four scanners which include two book scanners and two high-speed document scanners, all capable of producing portable document files (pdfs), images, and editable texts from the materials they scan. The ScanSnap iX500 and S1500 document scanners scan both sides of a page at once and typically process a 50 page document in about two minutes. The Plustek OpticBook 4800 book scanner provides a special binder locater edge that allows it to scan bound pages without the crease shadows that plague other flatbed scans and the ScanSnap SV600 book scanner provides the latest in high-speed two-page book scanning. From document acquisition to document printing, few UD facilities can match the unparalleled quality of those produced at the Language Resource Center.
Release your inner document at the Resource Center!