Resource Center Printing

Printing at the Language Resource Center has never been easier and it's free! Our incredibly reliable Hewlett Packard 9050dn prints clean gray-scale and black and white single-sided or double-sided documents at the rate of 50 pages per minute on the brightest white printer paper available on campus.  Accessible directly from all of our user friendly Windows 10 workstations default configured with the International Keyboard, printing is easily effected from any of the Microsoft Office applications installed on all workstations, or from any of the many other applications also available. Document preparation supplements include a three hole punching machine, a paper cutter, staplers and paperclips.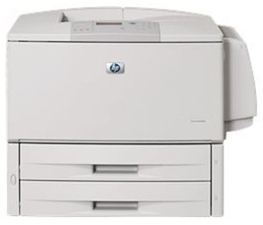 HP LaserJet 9050dn
Make the Resource Center your one-stop shop for printing.