Baraguá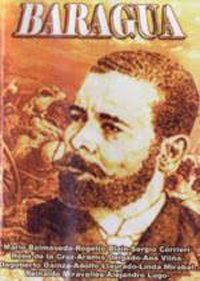 Call Number: Digital Video
Alternate Title: Baraguá
Year: 1986
Director: José Massip
Duration: 105 mins
Language(s): Spanish
Subtitle Language(s): None
Baraguá, is a Cuban historical film, made by the Cuban Institute of Cinematographic Art and Industry (ICAIC) and directed by José Massip. The film is based on the Protest of Baraguá (March 15, 1878), a historical event in the long war for Cuban Independence in which the Spanish general Arsenio Martínez-Campos Antón (Chilean actor Nelson Villagra) and the major general of the Liberation Army of Cuba, Antonio Maceo (Mario Balmaseda), met in "Mangos de Baraguá."  General Maceo made known to the Spanish representative the dissatisfaction of the Cuban revolutionaries with the Pact of Zanjon and that they would not accept the peace signed there without granting Cuba total independence.
The film narrates the struggles prior to the encounter, showing in well-developed scenes, the fighting between the revolutionary troops and the Spanish army.  The troops of Maceo and Máximo Gómez (José Antonio Rodríguez), have weakened and desertions and betrayals are frequent, which causes a group of officers to seek a truce with Spain and sign the "Peace of Zanjón", a stance that is rejected by the two main revolutionary leaders, who after meeting agree to continue the war.
Maceo in his interview with Martínez-Campos (final scenes of the film) points out to him: "That document does not contemplate the abolition of slavery or independence"  to which Martínez-Campos replies: "So, we don't understand each other."  Maceo then responds: "No, we don't understand each other."  This exchange in Baraguá nullifies the Zanjón agreement and rekindles the Cuban war for independence.