Changing Times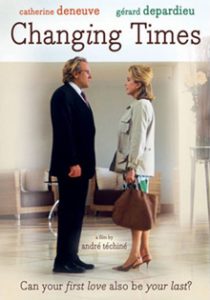 Call Number: FREFFDVDC20
Alternate Title: Les temps qui changent
Year: 2004
Director: André Téchiné
Duration: 100 mins
Language(s): French
Subtitle Language(s): English
Antoine, a successful French civil engineer, travels to Tangiers to supervise the construction of buildings for a large media center. His real motivation, however, is to seek out his first love from thirty years before, Cécile. Having discovered that Cécile lives in Tangiers, he begins anonymously sending her roses every day at the radio station where she hosts a French-Arabic program, but she is uninterested in her secret admirer. Cécile, who married a man shortly after ending her relationship with Antoine, only to divorce later, is currently married to a younger man, Nathan, a Moroccan Jewish physician.
Around the time Antoine arrives in Tangier, Cécile and Nathan's son, Sami, who lives in Paris, arrives for a visit with his live-in girlfriend, Nadia, and Saïd, her 9-year-old son by another man. Sami often leaves them alone in order to visit with his Moroccan boyfriend Bilal, who briefly lived in Paris and is now looking after a villa for its absent owners. Bilal more or less accepts Sami's ambivalence and they restart their affair. Nadia, meanwhile, hopes to reconnect with her identical twin sister, Aïcha, a conservative observant Muslim who works in a McDonald's, but Aicha is reluctant to see her and after many efforts Nadia manages only a brief glimpse of her sister from afar. When Nadia's addiction to prescriptions pills is exposed by Nathan, Sami decides that it is time to return to Paris.
Cécile, who is cold and formal, has buried her youthful dreams, coping with life in a state of mild exasperation. Her marriage is less than blissful. Nathan, whose career has stalled, has had several affairs. Eventually Cécile, encouraged by Rachel, a friend and coworker, accepts Antoine's advances, initially proposing a brief fling, rather than his preference for them to grow old together. They make love and Antoine is closer to reaching his goal just when he was losing all hope. However, shortly thereafter, Antoine is involved in a serious accident, trapped in a collapse at the construction site where he works and is hospitalized with a coma. Cécile visits him constantly at the hospital.
Cécile and Nathan separate.  Months later during one of Cécile's hospital visits, Antoine wakes up from his coma, and their hands join.