Getting Any?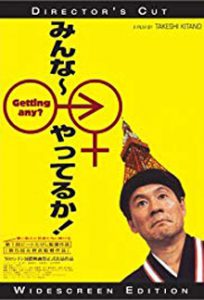 Call Number: JAPFFDVDG4.2
Alternate Title: Minnā yatteru ka!, みんな~やってるか!
Year: 1994
Director: Takeshi Kitano
Duration: 108 mins
Language(s): Japanese
Subtitle Language(s): English
Minoru Iizuka (also known as "Dankan") portrays Asao, a naive and goofy man who lives with his grandfather in Saitama Prefecture. Even though Asao is 35 years old, he is very inexperienced with girls, but he absolutely wants to have sex. One day as he watches an erotic TV film, he realizes that all he needs to get girls and sex is a fancy car, so he runs to the closest car dealer. His desperate attempts to have sex include buying a car, robbing a bank and becoming a movie star. He becomes increasingly obsessed with his plan and ends up in an array of comical situations as a result.