Rome The Eternal City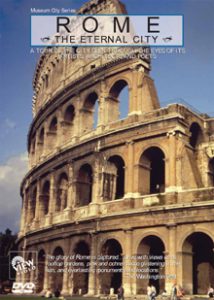 Call Number: ITADOCR2.1
Alternate Title: Rome The Eternal City
Year: 1994
Director: Museum City Videos
Duration: 45 mins
Language(s): Italian
Subtitle Language(s): English
City of Julius Caesar, Marcus Aurelius, the Emperor Constantine. City of the Roman Forum. Temple of the Vestal Virgins, Caracalla's Baths. City of seven hills. The Trevi Fountain, the Spanish Steps, the Victor Emmanuel Monument. The Sistine Chapel and St. Peter's Church inside the Vatican. St. Paul outside the gates. The Via Veneto. Piazza Navona. The Coliseum.
City of Popes, where Michelangelo, Raphael and Bernini wrought their masterworks. City of jeweled mosaic, glowing frescos, faded tapestries, and vaulted ceilings. People sipping espresso, dining in outdoor cafes. Church bells tolling the hour. Gardens on rooftops. Pink and ochre stucco gleaming in the summer sunshine.
V.I.E.W. Video is proud to present a new addition to the MUSEUM CITY SERIES. SPQR: The Senate and People of Rome. People everywhere come to seek its fabled wonders. It is once and forever… ROME: The Eternal City.