Wedding in Galilee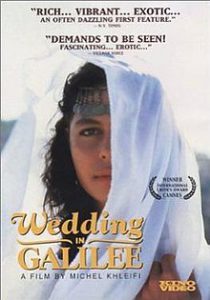 Call Number: ARBFFDVDW1, Digital Video
Alternate Title: Urs al-jalil, عرس الجليل
Year: 1987
Director: Michel Khleifi
Duration: 113 mins
Language(s): Arabic
Subtitle Language(s): English
The mayor of a West Bank village wants his son to adhere to Palestinian tradition in his upcoming wedding. The trouble is, this custom conflicts with the curfew put in place by the Israeli military. To get an exception, the father has to get clearance from the occupying governor, who, against all expectation, grants it. But there's a catch: The governor and his Israeli colleagues must be on the guest list.
Though it unhinges his film, the director's dismissive attitude toward the Israelis ironically frees him; he goes on to depict his Arab village in loving, almost anthropological detail.  White walls gleam against a wide, sun-baked landscape, and we can almost feel the hot wind blow during the wedding feast, as tradition mingles with its discontents. The village women ritually bathe and dress the bride, who will ride a blue-black horse through winding streets that look preserved from biblical times.
For all its flaws, Wedding in Galilee is a strong, rare example of Middle Eastern film making, and too vibrant artistically to be dismissed in the way the director does for his Israeli characters. Unlike more easily palatable films, it forces the audience to decide whether to separate politics and art, whether to accept the film on its creator's terms or not.